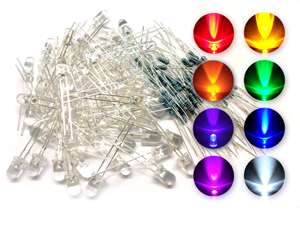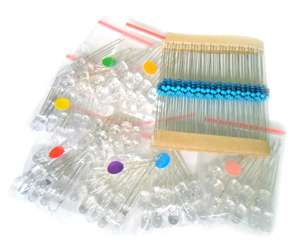 5mm Assorted Clear LED w/ Resistors (8 Colors, Pack of 80)
Price:

$17.50
UPC: 721405250004
Features
Contains 80 LEDs of 8 kinds. (Clear Red, Orange, Yellow, Green, Blue, White, Pink and Violet)
Comes with more-than-enough 1/4-watt 200 ohm resistors for making connections.
Great for electronic and electrical experiments
Product Description
Contains 10 Clear Reds, 10 Clear Oranges, 10 Clear Yellows, 10 Clear Greens, 10 Clear Blues, 10 Clear Whites, 10 Clear Pinks and 10 Clear Violets.
These light-emitting diodes work well for a wide variety of applications including Arduino projects.
Comes with more-than-enough 200ohm resistors for connections.
Forward Voltages are Clear Red, Orange and Yellow 1.9-2.0V, Clear Green: 2.9-3.1V, Clear Blue, White, Pink and Violet: 3.0-3.2V.
Packaged in a resealable zip lock bag for your ease of use.

Tips for connecting an LED properly: If you are going to use a power source such as a regulated DC PSU, remember to use an appropriate to limit the voltage at or below the maximum allowed level. You should not supply excess current: there will only be a relatively small increase in brightness but the LED may fail sooner. Don't forget to verify the legs of the light emitting diodes before soldering them.
Other products in 5mm Assorted LED with Resistors