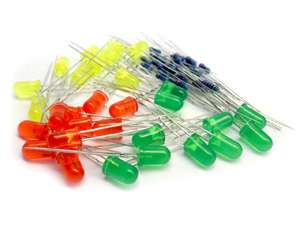 5mm Assorted LED w/ Resistors (3 Colors, Pack of 30)
Regular Price:

$10.50
Sale: $4.99
You Save: $5.51 (52%)
UPC: 738435190354
Features
Contains 30 LEDs of 3 kinds
Comes with more-than-enough 200 ohm, 1/4-watt resistors for making connections.
Great for electronic and electrical experiments
Product Description
Contains 10 Diffused Reds, 10 Diffused Yellows and 10 Diffused Greens. These light-emitting diodes work well for a wide variety of applications. Comes with some resistors for connection. Packaged in a resealable zip lock bag for your ease of use.
Forward Voltages are Red 1.9-2.0V, Yellow & Green 2.0-2.1V.
How to connect a Light Emitting Diode properly: If you are going to use a power supply like a transformer, you should use an appropriate to reduce the voltage at or below the maximum allowed level. Do not apply excess current since the brightness will only increase by a just a little bit but the LED may fail sooner. Don't forget to check the direction of the light emitting diodes before soldering them.
Other products in 5mm Assorted LED with Resistors