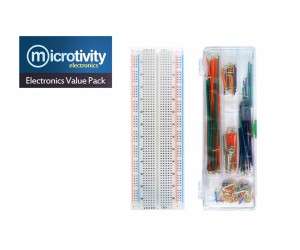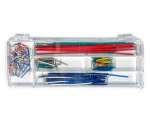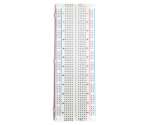 Electronics Value Pack (KS2-08)
Price:

$17.50
UPC: 721405251506
Features
Quality electronics pack from microtivity.
Contains 1 Case of 140 Jumper Wires, and
1 830-point Solderless Breadboard.
Great savings. Please refer to description for details.
Product Description
Save more when you buy this microtivity Electronics Value Pack!
Contents include:
1 Case of 140 Jumper Wires
A box of 140 pre-formed jumper wires of various lengths and colors. Solid core wires. Ends are pre-stripped for your convenience.
1 830-point Solderless Breadboard
A 830-point solderless breadboard. Two pairs of distribution rails with peelable adhesive tape at the back. Standard 0.1" (0.254mm) pitch. Dimensions: 165 x 55mm (6.50" x 2.15")
Other products in microtivity Electronic Value Packs