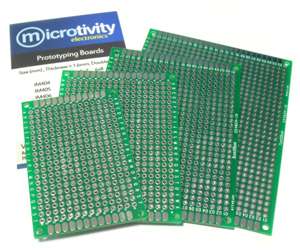 Assorted Double-sided Prototyping Board (Set B, Pack of 4)
Price:

$13.50
UPC: 721405250813
Features
Four high-quality double-sided Prototyping Boards.
One 4x6cm, One 5x7cm, One 6x8cm and One 7x9cm. 1.6mm thick
Epoxy glass board with pre-drilled tin-plated holes.
Product Description
A variety of perforated prototyping boards. These boards are perfect for developing your circuit. High quality solderable PCB made of FR4 glass-epoxy. Packaged in a resealable zip lock bag.
Other products in Prototyping Boards