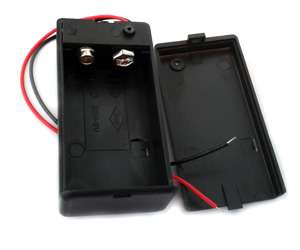 Battery Box (9-volt)
Price:

$10.50
UPC: 721405250738
Features
One battery holder for 1 9-volt cell.
Two output wires (red and black).
Switch on the box for controlling On/Off.
Cover and screw is included for securing the battery.
Product Description
This battery box work well for a wide variety of applications, from school projects to DIY experiments. Packaged in a resealable zip lock bag. Battery not included.
Other products in Battery Boxes